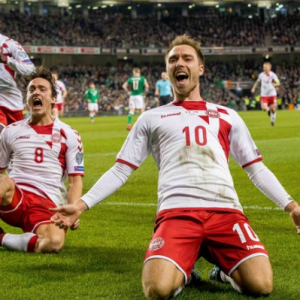 Your boys took a hell of a beating!
Not wanting to refer back to the late Bjørge Lillelien's commentary following Norway's 2–1 victory over England in a World Cup qualifier back in 1981. However, after last night's display by Denmark I could not think of anything better to describe how Ireland took a hell of a beating in their own back yard. It was a truly outstanding display by the Danes and in particular Eriksen, who's hat-trick took his World Cup goal tally to eleven.
All could have been different though, as after just five minutes a Robbie Brady drilled free-kick from the half-way line towards the Danes penalty spot caused confusion. Jorgenssen got to it but sent his clearance backwards instead of forwards towards his own goal, it looped up and Brighton man Duffy got there ahead of Schmeichel to head in for 1-0.
It didn't affect Denmark's game plan as they just got on with it and soon were testing Randolph in the Irish goal. First up Kvist and then Sisto but Randolph kept them both out. Denmark kept pressing though but were nearly caught out again and if Murphy had taken his chance half-way through the first half Ireland would have been in control.
Finally on the half-hour mark, Sisto produced some great skill to beat his man and put in a cross which found Christensen who stabbed it home via the post. Moments later they were in front. Brady and Ward got caught on the ball and Denmark broke so quickly from the half-way line. Four quick passes later, the ball was at Eriksen's feet and he smashed the ball in from the edge of area.
Into the second half and another outstanding curling effort from Eriksen, this time with his left foot made it 3-1. It didn't take him much longer to make it 4-1 and complete his hat-trick. A shocking touch from Ward near his own penalty spot let it slip away from himself and with such speed Eriksen smashed it into the bottom corner. Game over for Ireland.
Unfortunately a last-minute Nicklas Bendtner penalty made it 5-1 in the end. A sad evening then for the Republic of Ireland, who having beat Wales 1-0 in Cardiff last month thought they had every chance to qualify. In fact the last 3 times Ireland had qualified for a major tournament it had been via the play-offs, but it wasn't to be this time around.
After the 0-0 draw in the first leg with numerous key players missing and with around seven players on yellow cards too, Norwegian manager Åge Hareide may have felt the pressure. He knew what his players could do though and even under that bit of pressure when they went 1-0 down in this leg they bounced back very quickly. Denmark are off to Russia next summer!