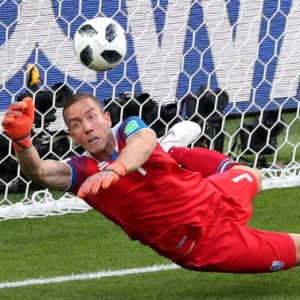 World Cup results round-up
It certainly wasn't a bad start for our three Nordic World Cup 2018 representatives in the opening round of fixtures over the past few days. All three teams scored and none lost with two one-nil wins and a 1-1 draw.
Argentina Favourites On The Betting Apps But Iceland Deliver On The Pitch
First up on Saturday afternoon was Argentina 1 Iceland 1 – The two-time previous winners are one of the outside favourites to lift the World Cup for a third time, but after this showing their fans might not be convinced. Indeed, having spent hours trawling the web before eventually finding a suitable betting app [via mobilebettingsite.com/football-betting-apps] on which to follow the tournament, I was amazed to see Argentina priced at such short odds. They may have the world's best player but his international tournament form doesn't compare to his club performances, and many areas of their team are very weak.
As for Iceland, well considering their playing in their first ever finals and they're the smallest nation by population at this years tournament, they certainly gave a good account of themselves.
After Iceland's succesful 2016 Euro Championships it was considered that this could go one of two ways, they'd carry on where they left off or they'd collapse and fail at the first hurdle. After twenty minutes it looked the latter as Argentina got straight into the game creating a couple of chances, then Sergio Aguero got his turn and the speed of his feet enabled him to twist quickly and bang the ball passed Hannes Þór Halldórsson.
After that though, Iceland seemed to sort themselves out as they grew into the game and certainly didn't let the goal faze them as they pulled level within four minutes of going behind. With Finnbogason calmly tapping in a cross that fell to him nicely from a few yards out. It's true that Argentina probably could have won the game but their star man Messi couldn't beat Halldórsson from the penalty spot in the second-half. Up next for Iceland in Group D is Nigeria this Friday 22nd June from Volgograd at 4pm.
Denmark Edge Spirited Peru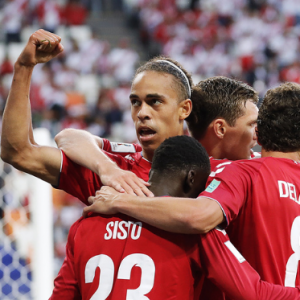 Peru 0 Denmark 1 – In this the first ever meeting of these two nations we got to see a fantastic game of football and although there was only the one goal, it was an end to end game of football. Peru certainly gave a good account of themselves in their first World Cup since Spain 1982 and should have gone 1-0 up but Christian Cueva missed a penalty. The award of the spot-kick was not given straight away but with the intervention of a VAR review it was awarded in the end by the referee.
Peru started the second-half brightly but Denmark were creating chances themselves and at one point there was no way of knowing which way the game would go, or if either side would take one of their chances. On the hour mark though, one of Peru's attacks broke down and Denmark sprung into action by moving the ball forward quickly before Peru could get back into their positions. Christian Eriksen charged towards goal and just at the moment the Peru defence came towards him, he slid in Poulsen who finished superbly to give the Danes the lead.
Peru continued to come at Denmark until the final whistle but the outstanding Kasper Schmeichel was in fine form in Denmark's goal (as he has been all season) and made some crucial saves. Three points for Denmark then and their next fixture is this Thursday v Australia in Samara, 1pm kick off.
Sweden On Top In Close Match
Sweden 1–0 South Korea – There has been a few World Cup VAR decisions so far in this World Cup, especially in the award of penalties and this game was one of them. To begin with though Sweden started the better against a poor South Korean team on the day and looked comfortable throughout the match. Although the game looked like it might end as a 0-0 draw at one point, Sweden stuck to their game plan and eventually got their chance from the penalty spot.
Yet again the initially decision was not given by the match referee, however the VAR team had a word in referee Joel Aguilar's ear and he correctly changed his mind. Andreas Granqvist stepped up to take it, took his time and sent the Korean goalkeeper the wrong way. South Korea never really looked like scoring all afternoon but did finally give it a go with time running out, but it was too little too late and the three points went to Sweden. The Swede's next fixture is the big one against Germany in Sochi at 7pm this Saturday where they could knock out the reigning champions.