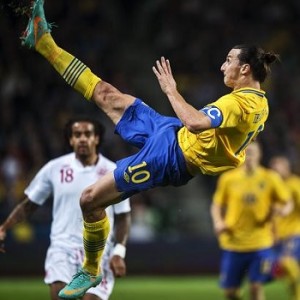 Zlatan: What Next For Swedish Football's Golden Boy?
So unless they really do replace the Eiffel Tower with a statue of him, it looks very much like Zlatan Ibrahimovic will be moving on from PSG at the end of the season. Inevitably, this has lead to some intense speculation regarding his next club.
With Ibra available on a free transfer, there is unlikely to be any shortage of suitors. Although he's now approaching 35, Ibra shows no discernible signs that his powers are on the wane. For a player who was never blessed with pace, his game has been based around other attributes which are less likely to fade with age. The consensus is that he still has at least another two seasons of top level football in him.
Newspaper speculation has linked a number of Premier League clubs with Ibra's signature, including Manchester United, Chelsea and West Ham. With the new influx of TV money set to swell English football's coffers next season, it's likely that many of the Premier League clubs could afford him. Zlatan himself has spoken of a desire to play in England, which means this is his most likely destination.
Although obviously paper talk of figures up to £600k a week are ludicrous, it's likely that he will still demand a hefty salary. Ibra must be a hard man to negotiate with, since he certainly doesn't lack belief in his own worth and ability!
Should these figures prove even close to being accurate, it's not hard to envisage a scenario where no Premier League club is willing to meet Zlatan's wage demands. If things do pan out that way, an alternative destination may be China. Recent examples show that Chinese Super League clubs have no qualms about paying exorbitant sums for, shall we say, older world stars who may be a little past their prime. And while Zlatan is more than capable of playing at a more competitive level for a while yet, he may just decide to follow the money and become the very biggest of fish in a small pond.