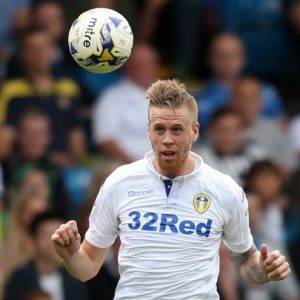 Pontus Jansson – Leeds United's Swedish saviour
English football has long had a sizeable fan-base in Scandinavia, much of which can be traced back nearly half-a-century to when Tippekampen (Norway) and Tipsextra (Sweden) would broadcast a live English game every Saturday afternoon of the season on domestic TV.
One of the most popular clubs in the early years were Leeds United, who were then at the peak of their powers under Don Revie.  It also helped that Leeds faced Norwegian opposition on three occasions in European competition around this time too, dismantling FK Lyn 16-0 on aggregate in a European Cup tie in 1969, Sarpsborg 6-0 in the Inter-Cities Fair Cup a year later and Stromgodset 7-2 in what was by then the UEFA Cup in 1973.
It goes a long way to explaining why many Scandinavian fans of Leeds tend to be of a certain vintage, as evidenced by a couple of their celebrity supporters, the Swedish tennis legends Mats Wilander (52-years-old) and Stefan Edberg (50).
Another factor in Leeds drawing support from the Nordic nations is that, since the dawn of the Premier League, the club has signed their fair share of Scandinavian players.  It began with Norwegian striker Frank Strandli in 1993 and there's been a steady stream from Northern Europe plying their trade at Elland Road ever since.  Some, such as the Norwegian trio of Eirik Bakke, Gunnar Halle and Alfe-Inge Håland, have been somewhat more successful than others (the aforementioned Strandli and a certain Tomas Brolin spring to mind).
This season there are two Swedish players on the Leeds payroll.  Striker Marcus Antonsson was signed on a three-year contract for an 'undisclosed' fee (just about every Leeds transfer fee gets listed as such), although it's believed the final amount paid could rise to up to £2 million.
The 25-year-old scored 22 goals in 40 league games for Kalmar after signing from Halmstads in January 2015, but has so far struggled to make a significant impact at Leeds.  That certainly can't be said of Antonsson's fellow countryman at Elland Road.
Central defender Pontus Jansson joined in mid-August on a season-long loan from Serie A's Torino.  Although Jansson has only made seven appearances going into Tuesday's home match with Wigan Athletic, it's safe to say that he is already well on his way to cult hero status as far as the supporters are concerned.
It was all looking worryingly familiar for Leeds in the opening weeks of the campaign.  A sluggish start to the season was already leading to speculation that newly appointed manager Garry Monk could be jettisoned by the notoriously unpredictable Massimo Cellino (one of the few men on the planet who can make Donald Trump appear vaguely rational by comparison).
The Leeds rearguard has long been suspect, particularly when defending set-pieces and crosses into the box. Jansson has seemingly resolved that problem almost single-handedly, with the 6′ 5″ colossus heading away just about everything that comes into Rob Green's penalty area.
It's not just his aerial dominance that has impressed either, with his whole-hearted commitment and leadership on the pitch also being much to the fore.  If there's a tackle, block or interception to be made, Jansson's willingness to put his body on the line has already endeared him to the fans.
He's also impressed with his passion on social media and in interviews, which was summed up in the Yorkshire Post following his stellar performance in the recent 2-1 victory against Barnsley.
"I am really happy that the fans like me", Jansson told the newspaper, before adding, "But I don't know why?  I am just playing my type of game.  I have not played like this to make them like me. It is just how I am.
"I like to attack the ball, I like to fight and do everything for my team. At the end, the ball was coming to my head like a magnet.
"Football is more and more like a business, but you also have to go on the pitch and have fun. That is important and why it is great to have a relationship with the fans."
The Swedish international (he was an unused member of their squad at Euro 2016 over the summer) has formed an impressive central defensive partnership with fellow loanee Kyle Bartley and provided the stability the team was so badly lacking.
Of course, it's early days yet and there is always the possibility that Jansson's form may prove to be temporary.  His attitude would suggest otherwise though and a bigger concern is that the knee problems he suffered in the two years prior to joining Leeds could re-surface or that Cellino pulls the plug on a permanent deal.
The player himself has expressed a desire for the move to be made permanent as soon as possible.  It's safe to assume that Monk feels the same way and there's no question as to what the supporters want.  There is a reported £3.5 million buy-out clause that Leeds can activate once Jansson has made 20 appearances, so that would appear to leave any deal down to just one man….Cellino.
David Hulott