Iceland's prospects in focus
In the wake of this summer's World Cup, the Icelandic national team is at something of a crossroads. Massive overachievement in Euro 2016 in France gave way to a disappointing first round exit from this year's competition in Russia.
The upcoming UEFA Nations League might give an indication of what the future holds. Following several years of punching above their weight in the international game, Iceland was rewarded by being placed in the top League A when the seedings were announced last December. As a result they will play tough games in their initial group stage, facing World Cup semifinalists Belgium who are ranked 2nd in the world, and Switzerland, who are currently ranked 8th.
The UEFA Nations League: Iceland's Prospects in Focus
Iceland's participation in the recent World Cup generated a lot of hype. They were making history as the smallest nation to ever take part, and memories of their heroics in the European Championships were still fresh. But apart from a slightly fortuitous draw against a ragged Argentine side (thanks in part to a missed penalty) there wasn't much to cheer about. But qualification itself was a monumental achievement for the North Atlantic island nation.
The sparsely populated nation has of course exceeded all expectations in recent times, dating back to the qualifiers for the 2014 World Cup when they made the playoffs, when they lost 2-0 on aggregate to Croatia. As of August 2018 they stand at 32nd in FIFA's world rankings, well below their nations league opponents. Are we seeing Iceland now revert to the mean?
Much has been made of the reasons for Iceland's success in recent times. It shouldn't really be much of a surprise. Anyone who has visited the country will have noticed how popular the sport is there. On my first visit I was struck by the number of soccer grounds there were in and around Reykjavík. There was no difficulty whatsoever in finding a premier division game to watch during my stay. A short walk from downtown brought us to one of the many venues dotted around the capital.
But there's more to the story than just the level of popularity that the game has long enjoyed in the country.
Investment in facilities over the last few years has allowed players to keep training all year round, which hadn't always been the case in this country on the edge of the Arctic Circle. The cynic will point out this essentially brings Iceland in line with most other countries, where weather isn't a factor.
But digging a little deeper, what is key to player development is the fact that all young Icelanders – boys and girls – are given year round coaching from highly qualified coaches, regardless of their ability. The concept of weeding out "elite" players from a very young age is an alien one. It's a radical approach and reflects the country's egalitarian ethos.
Some players develop later than others and in Iceland they won't fall through the net. Given the restricted pool of available players, the country can't afford to let them. This augurs well for the long term development of players.
Given the existing limitations of the available pool of players, Iceland has had to be pragmatic about its style of play, typically working hard to soak up pressure and catch teams on the break.
The team is exceptionally well organized, starting games with an orthodox 4-4-2 formation. Rapid attacks are launched that stretch opposing defences and allow incoming attackers opportunities to shoot on target. Set pieces are important too.
The massive collective effort exerted to apply this approach was sustainable because of a sense of "togetherness" which is so important in a country where communities are bound so closely together. The resolve of the Icelanders has caught many opponents unaware.
But Iceland are not the surprise packet that they once were. Opponents now expect a very tough game and so alter their game plans accordingly. Following an impressive qualifying campaign, Iceland's preparations for the World Cup were marked by defeats against the Czech Republic, Mexico, Peru and Norway. Will the team's exceptional team spirit be enough to keep carrying them forward?
Heimir Hallgrímsson, the dentist/manager who steered Iceland to a playoff and two major finals has stepped down from his position. He has been replaced by Swede Erik Hamrén, who managed his country at the 2012 and 2016 Euros, has also held high profile jobs at AIK Stockholm, Aab and Rosenborg.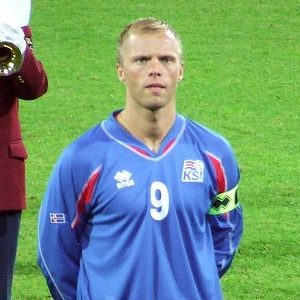 Hamrén has a hard act to follow, and may see the Nations League as an opportunity to work with the squad and get his way of think across to the team. There will be gaps in the squad due to post World Cup retirements and as other players age.
The country's all-time top scorer Eiđur Guđjohnsen has now been joined in retirement by midfielder Ólafur Skúlason and centre back Ragnar Sigurđsson.
One concern that Hamrén may have is the small number of players operating at the highest levels of the game in Europe. At present, most Icelanders ply their trade in the Nordic leagues or the lower tiers of major European countries. The domestic league isn't quite ready yet to provide a pipeline of players who are fit for purpose at this level. If Iceland is to continue making headlines, that may have to change, and the KSĺ – Iceland's FA – has wisely invested prize money from their tournament appearances into local clubs.
The long term for the team from the land of fire and ice continues to look promising. In the meantime, winter is coming and there are some very tough games ahead. Please do let us know you thoughts and predictions in the comments box at the bottom of the page.
Nations League Schedule (All times CET):
Saturday September 8th – Switzerland v Iceland (18:00)
Tuesday September 11th – Iceland v Belgium (20:45)
Monday October 15th – Iceland v Switzerland (20:45)
Thursday November 15th – Belgium v Iceland (20:45)
Thanks to Tom Cremins at onefanandhisblog for this article