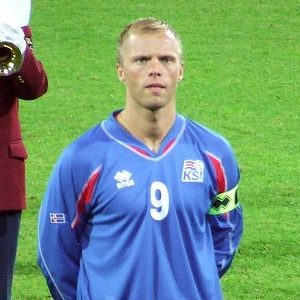 Euro 2016 Offers Gudjohnsen One More Chance To Shine
Iceland legend Eidur Gudjohnsen has been handed a chance to showcase his skills in a major tournament after being named in the 23 man squad for Euro 2016. Gudjohnsen is arguably one of Iceland's best ever players, but had already retired from international football once before being recalled in 2015. However, after he left the Chinese club Shijiazhuang in November, it looked like his prospects of playing this summer were bleak, until a move to Molde in February.
Iceland are obviously not a side that the bookies are offering good odds to win Euro 2016, but in a group which also contains Hungary, Austria and Portugal, they will feel they have a reasonable chance to get through. Having struggled to qualify for a major finals in recent years, this tournament offers them a rare chance to impress on the big stage. The experience, class and creativity of Gudjohnsen will be vital for them if they are to do that.
Eidur has had a hugely successful career and is one of my favourite Nordic players of all time. Starting out at PSV, he suffered a broken leg before moving to Bolton Wanderers. There he was rehabilitated and became their star player before earning  move to Chelsea where he formed a formidable partnership with Jimmy Floyd Hasselbaink.
He then moved to Barcelona (winning the Champions League) before spells at Stoke, Fulham, and Bolton again. It was a surprise when Bolton allowed him to move to China at the start of the season, but the move to Molde is what clinched his place in the Euro 2016 squad according to coach Lars Lagerback.
"If he hadn't found a club in January, he would not have been picked."
So he's made himself quite clear there then!
Gudjohnsen's game was never based on pace, so his advancing years are less of a hindrance than they might be to other players. He is one of those where the first yard is and always was in his head – a Sheringham type of forward. If Iceland play with willing runners around him at Euro 2016, it will bring the best out of Gudjohnsen and allow him to make the most of his opportunity.
I always find it a great shame when world class players never get to play at a major international tournament because they happen to be born in a country that never qualifies. That's why the expansion of Euro 2016 is a great thing. It gives more teams the chance to participate and we get to see players we might otherwise never see. And who knows, with a little momentum any of the smaller nations could easily emulate Greece or Denmark.
At 37 this will clearly be Eidur's one and only chance to play in an international tournament, and I look forward to seeing him this summer.