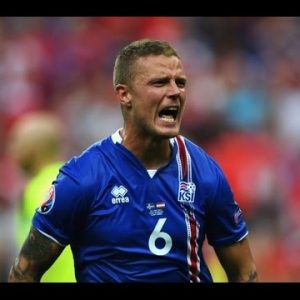 Iceland in World Cup 2018 qualifying
After an impressive and completely unexpected performance in their first competitive tournament at the 2016 Euro Championship, Iceland have a real shot at qualifying for their first World Cup after their performance in the two matches over this most recent international break.
Iceland's 2018 World Cup qualifying has started off nearly as well as they would have wanted. Through three matches, they are level on points with Croatia at the top of Group I, being second on goal differential.
In September, their qualifying kicked off with a 1-1 draw in an empty stadium in Kiev against Ukraine. Alfreð Finnbogason has scored in all three qualifying matches so far and he opened his account with a 6th minute goal against a Ukraine side who is looking to qualify for their second World Cup, with their first being in 2006. Ukraine drew level in the 41st minute and the match, just like the other two matches that day in Group I, finished 1-1.
Following the Ukraine match, a month later, on September 6th, Iceland welcomed Finland to Reykjavik for their second qualifying match. Finland jumped out front, grabbing a 1-0 lead in the 21st minute. Iceland then equalized in the 37th minute, but that goal was quickly cancelled out by another Finnish goal two minutes later, putting Finland up 2-1. In what may be looked back upon as a crucial point in qualifying, Iceland regained some of that magic from their Euro run and put in two goals in the 91st and 96th minute to take all three points. First, Finnbogason got his second goal of qualifying after a short corner was taken and he headed it in through the keeper's legs at the back post. And then, five minutes later, Ragnar Sigurðsson put in a rebound the goalie had saved in what many Finnish players thought should have been a foul. No foul was given and Iceland grabbed a crucial 3 points in the dying embers of the match.
Three days later, Iceland hosted Turkey. While this match may have not had the same excitement as the one against Finland, the home team came away with another crucial three points. They scored two goals in quick succession, just as they had last match, scoring in the 42nd and 44th minute, with Finnbogason grabbing another goal, for his third in three matches. This gave Iceland 7 points total, even with Croatia, but behind with a +3 goal differential compared to Croatia's +7, although it should be noted that +6 of that came from a demolishing of the worst team in the group, Kosovo, in a 0-6 win.
Iceland's next match is a big one, as they travel to Zagreb to play Croatia in November, another match that will be without any fans in attendance due to Croatia's sanctions from FIFA. This could play a big factor as the home advantage is pretty much wiped away with no fans. Croatia is easily the best team in the group, and if Iceland can steal even just one point on the road, it would certainly be a success. Taking seven points from nine is a phenomenal success for the Icelandic team. They must not rest of their laurels though. This is Iceland's best shot at qualifying for their first World Cup. They finished second in their group in 2014 World Cup qualification, but fell short of reaching it after they lost 0-2 on aggregate to Croatia in the playoff.
They can certainly give Croatia a run for their money for first place in the group and gain automatic qualification, but a second place finish is at the least very likely with Iceland being in a weaker group. There is a long road ahead of them, but points against Croatia in November will do wonders for their confidence and can give them a boost to push on to become the first Icelandic team to qualify for the World Cup.
Thomas Leinenweber