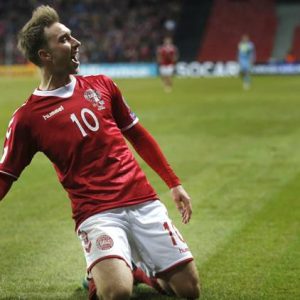 How many teams are in the World Cup?
It's a question I've heard quite often recently, whether it be down the pub, at work or at a football match. People want to know, but for me it's something I've always known and seem to know well in advance and when qualifying actually starts. More to point, the number of teams in the competition hasn't changed since France 1998. Anyway, the answer is 32 of which 31 teams have to qualify with only Russia themselves having automatically qualified as hosts.
Hopefully three of those teams that qualify will be Nordic teams with both Sweden and Iceland currently sitting second in their groups and Denmark third in theirs but only on goal difference. Top spot and automatic qualification is still a possibility for all three as well though and that is surely what they'll be aiming for over the next six days.
Denmark have two tough games but the most important one is tonight as they must not lose away to Montenegro, a draw would be good but they can't risk losing. As Montenegro are then away to Poland on Sunday so realistically Denmark are looking at second place as long as they themselves can also beat Romania at home on the same day.
Thursday 5th October
Montenegro  19:45  Denmark  on Sky Sports
San Marino  19:45  Norway  on Sky Sports
Croatia  19:45  Finland  on Sky Sports
Turkey  19:45  Iceland  on Sky Sports
With Norway and Finland already out you might think they have nothing to play for, but Norway need to make sure they finish strongly and on a high at least. Same for Finland and I think both could possibly get away with picking up four or possibly six points. If Finland can do that too then that would also help out Iceland massively with them being in the same group. Iceland could do with a win tonight away to Turkey but if they can at least get a draw then a home win against Kosovo on Monday night could give them top spot or at least guaranteeing second place.
Saturday 7th October
Sweden  17:00  Luxembourg  on Sky Sports
Sweden have the best chance of finishing right at the top of their group but they do have to overhaul France. That might be tough but France shockingly draw 0-0 at home to Luxembourg last time out to open up the group, so anything is possibly. If Sweden can win Saturday and France do slip up with a say a draw then the pressure is on the French to perform in their final game with Sweden then going to away to Holland.
Sunday 8th October
Denmark  17:00  Romania  on Sky Sports
Norway  19:45  Northern Ireland  on Sky Sports
Monday 9th October
Finland  19:45  Turkey  on Sky Sports
Iceland  19:45  Kosovo  on Sky Sports
Tuesday 10th October
Netherlands  19:45  Sweden
Honestly though, I'm predicting Sweden, Iceland and Denmark all to finish second in their respective groups and then go into the Play-Off games next month. Then it's all about who they get in the draw, let's hope if that happens then they don't come up and against each other.