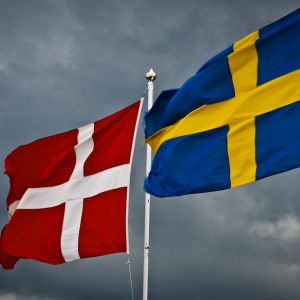 European World Cup play off draw
As both Sweden and Denmark failed to finish in top spot of their groups to reach the World Cup finals automatically. They both still do have a chance of being in Russia next June though as they now both have home and away fixtures after the World Cup play off draw to see if they can join Iceland. Below is our quick Nordic review of the recent final group qualifying games in Groups A, C and E.
I'll start in Group C and with Norway who had a dissapointing campaign but as stated previously, for confidence going forward they had to finish on a high. Away to San Marino they did just that right from the off with three goals in the first fifteen minutes, including two from their main man Josh King. It was 4-0 at half-time with Elyounoussi also getting one as well before eventually getting two more in the second-half to complete his hat trick and a 8-0 win.
It was important win as surely their plan for these two final games was to win both to definitely finish above Azerbaijan and hopefully the Czechs if possible? They did just that too against the already guaranteed second placed finishers Northern Ireland. Maybe Ireland rested a few players with injuries and suspensions on their minds ahead of their play-off game. Norway were 1-0 winners though thanks to an own goal from West Brom's Chris Brunt who volleyed in on his own goal line.
The start of the campaign cost Norway unfortunately after a very good finish to the group as they held on to this victory despite NI going close on a couple of occasions. Although to be fair it should have been 2-0 to Norway, but
for a very strange disallowed goal for offside with the last kick of the game. Norway finished 4th overall on 13 points but two points behind Czechs in the end and six behind Northern Ireland. Germany were way out in front having a perfect record with ten wins out of ten and 30 points. Friendlies up next for them:
Friday 10th November
FYR Macedonia  vs  Norway
Monday 13th November
Slovakia  vs  Norway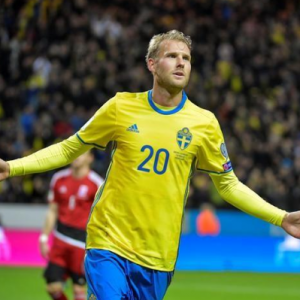 As for Sweden and the end to their Group A campaign, well they got their biggest win since 1938, an 8-0 win. No chance of them slipping up as Sweden were on fire, especially Marcus Berg who got four in total. He got two of the three in the first half before getting two more in the second half. Granqvist also bagged two for himself on the night, both from the penalty spot which does bring up the question, how did Luxemborg draw 0-0 in France last month. Thankfully Bulgaria couldn't manage to do the same and France won 1-0 to stay top the group as predicted.
France then won again 2-1 against Belarus to confirm top spot, which meant Sweden knew they just had to avoid losing seven-nil to the dutch. They managed that but did lose on the night 2-0 with both goals coming from the retiring Arjen Robben. Holland had a shocking campaign but thankfully Sweden didn't, even though they finished level on points at the end.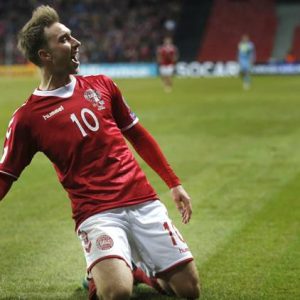 Denmark in Group E had a fourth win in a row thanks to super Spurs' midfielder Christian Eriksson as they beat their closest challengers Macedonia 1-0. That was a huge result away from home but automatic spot was still up for grabs officially, but realistically finishing second was now there best chance going into the last game. That's because Poland thumped Armenia away from home with six goal to one, plus they also had Montenegro at home themselves.
Against Rominia they got off to a good start when Bendtner was fouled for penalty. Up stepped that man Eriksson again to convert from the spot and to get his six goal in six matches. Strangely though, they let their lead slip but knowing Montenegro were losing already losing at the time to the table toppers Poland. Denmark knew they were safe and had second spot guaranteed thankfully. The draw and fixtures are as follows then for Denmark and Sweden:
Thursday 9th November
Croatia  19:45  Greece
Northern Ireland  19:45  Switzerland
Friday 10th November
Sweden  19:45  Italy
Saturday 11th November
Denmark  19:45  Republic of Ireland
Sunday 12th November
Switzerland  17:00  Northern Ireland
Greece  19:45  Croatia
Monday 13th November
Italy  19:45  Sweden
Tuesday 14th November
Republic of Ireland  19:45  Denmark
To see how Iceland and Finland's final group games went, please click here: