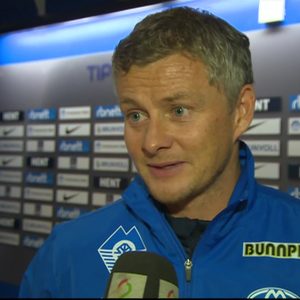 Disappointing Season for Molde FK
Ole Gunnar Solskjaer's second run as manager of the Norwegian side, Molde FK, has not started off as well as his first stint in charge.
The former Manchester United forward was previously manager of Molde from January 2011, until January 2014, when he was hired by Cardiff City. In his three seasons in charge of Molde, he won the Tippeligaen in both of his first two seasons, the club's first league titles. His third season in charge was a bit of struggle, finishing sixth in the league. However, his side did win the Norwegian Football Cup. Three trophies in three seasons made it a very successful head coaching stint, and Solskjaer was snatched away by Cardiff.
Solskjaer returned to Molde near the end of the 2015 Tippeligaen season. That year had been a disappointment for the club. They were defending champions of both the league and the cup, but finished 6th in the league and were ousted in the cup in the quarterfinals. They had some success in Europa League, where they finished first in their group but were knocked out in the Round of 32 by the eventual winners of the tournament, Sevilla.
After the previous year's disappointment, the club and its fans were looking towards Solskjaer steering them back on course. With no European football to worry about, Molde could focus entirely on domestic football. But that was easier said than done.
The 2016 season was off to a great start for the club. In league play, they only lost one of their first eight matches, grabbing a solid 18 points. In the Norwegian Football Cup, they won their first two matches. In all competitions going into May, they had won seven, drew two, and lost one. Things were looking up compared to the previous season. And then all of sudden, they weren't.
On May 4th , Molde travelled to Stjordal to face Stjordal-Blink, a club in the third tier of Norwegian football, to play their third round match of the Norwegian Football Cup. What should have been a fairly easy win turned into a massive upset. Molde lost 2-1, after Tom-Rune Honnas scored in the 79th minute to break the 1-1 deadlock. A third round loss to a third-tier side was not what Solskjaer had in mind.
That loss set off a poor run of form that lasted until August. After the Stjordal-Blink match, Molde would only win two of their next 10 matches, losing six of them and drawing the other two. Those eight points from 10 matches saw Molde drop from 3rd place in the league to 9th.
They have not been able to dig themselves out of this hole. Molde has had to claw their way back to fourth place. They have one match remaining, away to Lillestrom on Sunday, and any slip up could see them fall as far as 7th. Fans of Molde will be without any European matches for a second straight season as third place is out of their reach.
Solskajer's first full season back as Molde manager was not what was expected of him and his squad. Their season was unfortunately defined by a bad couple of months in the summer this year. Their attacking was solid, scoring the second most goals in all of the Tippeligaen. Issues have arisen out of their defense. In 29 league matches so far, they have only had eight clean sheets, and have given up at least two goals in a match 13 times. If Solskajer's wants to have the success he had his first time around, he will definitely need to make some changes at the back. That being said, Molde have a great man to lead their squad. And after the disappointing year he had, he will be raring to go for next season.
Thomas Leinenweber