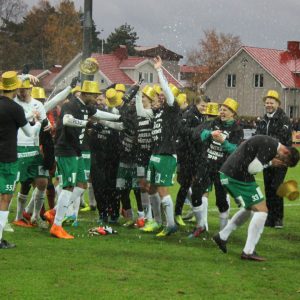 IFK Mariehamn defy the odds to claim first Finnish title
The Åland Islands is an autonomous and predominantly Swedish-speaking archipelago in Finland, made up of over 6,500 islands and skerries. The total population is barely 29,000, with 11,000 of those living in the capital, Mariehamn.
The Åland Islands also happens to be the home of the newly-crowned Veikkausliiga champions, IFK Mariehamn.
It was a title that few anticipated and has led, somewhat predictably perhaps, to IFK being dubbed the 'Finnish Leicester City' by some observers. That might be stretching things a tad, but it was unquestionably a major achievement by the Saarelaiset (The Islanders), given that their budget is only a fraction of that of many of their rivals. IFK were promoted to the Veikkausliiga for the first time in 2005 and only became fully professional in 2009. Despite four consecutive top-six finishes and having won the 2015 Suomen Cup (despite playing with 10-men for well over half the match), expectations were limited going into the new season. There were two main factors behind the pessimism.
The first was that long-serving coach Pekka Lyyski, having taken the club from the third tier to establish them in the top-flight, had retired after well over a decade at the helm. Lyyski, was to be succeeded by his former assistant Peter Lundberg and the experienced Kari Virtanen as joint-managers and few were convinced it would be a winning partnership.
The other big concern was that there had also been a couple of high-profile player departures, with goal-scoring midfielder Petteri Forsell moving to Miedź Legnica in the Polish second tier and Finland U-21 goalkeeper Otso Virtanen going to Hibernian in the Scottish Championship.
With little happening on the recruitment front (other than the signing of veteran midfielder Gabriel Petrović), few would have put money on Grönvitt (Green and Whites) replicating their sixth-place finish in 2015, let alone challenging for the title.
Their success was built upon a fantastic team spirit, coupled with a resolute defence that conceded just 25 goals in 33 matches and kept an impressive 18 clean sheets over the course of the season.
Walter Viitala stepped up to replace Virtanen in goal and was an ever-present, whilst Kristian Kojola and captain Jani Lyyski (son of the aforementioned former coach) were a formidable central defensive pairing in front of him. Right-back Albin Granlund did enough to warrant a call-up to the Finland national squad for their recent World Cup qualifiers.
They weren't the most prolific of teams at the other end, scoring just 40 goals. The main man in attack was the Jamaican international Dever Orgill, who contributed 12 goals and his importance was apparent when IFK's form briefly dipped when he was away on Copa America duty.
The title was secured with last Sunday's 2-1 win at home to FC Ilves in front of a bumper crowd of 4,335 (40% of Mariehamn's population) at the Wiklöf Holding Arena. It was fitting that it was Lyyski who lifted the Veikkausliiga trophy, given that it was his father who had laid the foundations for the club's success.
Sunday 23rd October's victory also secured IFK a place in the 2 nd Qualifying Round of the 2017-18 Champions' League for what will be their third European campaign, having previously qualified on a couple of occasions for the Europa League.
They first appeared in 2013-14 through UEFA's Respect Fair Play ranking and did so again via more conventional means (winning the domestic cup) this season. They've failed to win any of the four games played though, going out in the 1 st Qualifying Round to Inter Baku (Azerbaijan) and Odds BK (Norway) respectively.
If IFK are to make progress beyond their entry point in the Champions' League, they will have to play their home matches in either Turku or Helsinki, as the Wiklöf Holding Arena wouldn't meet UEFA's Category 3 requirements. That would necessitate a ferry trip of several hours by the club's supporters.
There is also the prospect of losing more key players over the winter. Orgill is now out of contract and has indicated that he will probably be leaving the club. He's confirmed talks with Swedish Allsvenskan Djurgårdens IF and Östersunds FK have already taken place.
Sunday's match-winner, Diego Assis, is also now free to move on and looks likely to do so. The Brazilian also scored both IFK's goals when they won the Suomen Cup in the 2-1 victory over Inter Turku, and is something of a talisman at the club.
IFK were fortunate with injuries last season, getting by with a squad that had little in the way of cover. Lundberg and Virtanen will clearly need to add greater depth, in addition to replacing any that leave, if they are to mount a serious defence of the title and do themselves justice in Europe.
It's probably asking too much for IFK to become only the second Finnish club after HJK to reach the Champions' League group stage (which they did in 1998-99) but, with a favourable draw and a few astute signings, they might just be able to replicate the success of a club like Ireland's Dundalk this season in reaching the Europa League group stage and provide a serious boost to the club's bank balance in doing so.
David Hulott