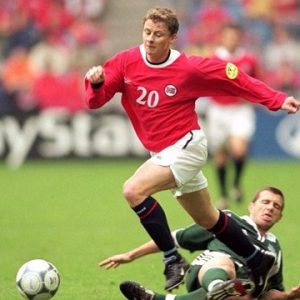 This article was written by a friend of ours back in the summer of 2007 and is probably no longer out there to read. In no way are we here at Nordic Football News taking any credit for the article, but as a fan of this Norwegian legend we thought you my like to read this from when it was written at the time. Enjoy.
"As a Manchester United fan, there is only one thing I could write about for this week's blog – the retirement of United legend Ole-Gunnar Solskjaer. Now, I'm not daft enough to think that everyone follows the United cause and I know as many footy fans dislike the Red Devils as favour them. But I doubt there are many supporters who would begrudge a loyal servant such as Ole all the plaudits that will come his way in the coming days and weeks.
For me he is a hero – a player that every club has over the years, someone who is fully-committed and will sweat blood for the cause. Unusually as well, for a top professional in the Premier League, you rarely hear him sounding off in the media or pictured on a night out on the tiles. A proper player –  that was Solskjaer. To label a 34-year-old a hero may sound strange for someone like me who is creeping close to the same age but that is what he has been for most of us United fans in his 10 years at Old Trafford. The banner that currently sits at the Stretford End that proclaims '20 Legend' says it all.
An unknown Norwegian striker signed from Molde in 1996, he arrived without any furore and left a legend. No-one knew back in the mid-nineties what Fergie had unearthed but the baby-faced assassin turned out to be a gem – a man who would achieve iconic status and sell thousands of shirts with the number '20' on the back.
So what was Solskjaer's appeal? His eye for goal was an obvious factor – a striker who rarely missed the target and was cool in front of goal. A goal ratio for United and Norway of one every three games ain't half bad.
But his likeability factor was also what endeared him to the Old Trafford faithful. Even his early admittance of being a boyhood Liverpool fan back in his native Scandinavia didn't go against him!
His popularity grew and grew and he was a key member of the United success story in the late nineties and into the new millennium. A late, late goal against Liverpool in the FA Cup at Old Trafford in 1999 after yet another super-sub appearance and four goals in the space of 10 minutes in an 8-1 away win at Nottingham Forest less than a month later are memorable moments that spring to mind.
But above all there is only one goal that he will ever be remembered for and that came in the third minute of stoppage time back at the Nou Camp in May 1999. The goal that won the European Cup, the 'Treble' – he lived out every United fan's dreams that night against Bayern Munich and no-one with the Red Devils at heart will ever forget that. The years to come saw his goal record continue until a knee injury in 2004 halted his career.
For a while it looked like the end was nigh for a man who had so much left to give. A long fightback ensued but the fans never forgot their idol. His name was chanted each and every week, something the player himself admits drove him on to make a comeback in a red shirt. It didn't look promising but he made it and when he ended a massive gap without a goal at Charlton a year ago, the pleasure on his face was priceless.
Although now a bit part player as the likes of Rooney and Ronaldo took centre stage, Solskjaer was still number one with the fans. Cantona had gone, Keane left but Ole was still there doing his bit. In fact he went on to play over 30 games last season and also returned to the international fold with Norway. He scored 11 goals for United – his last ironically against the same team he bagged his first, Blackburn.
He even managed to fit in one of those trademark late strikes when he scored the winner against Aston Villa in the third round of the FA Cup. He couldn't repeat the feat in the Final however when he came on to try and help United overturn Chelsea – a game that we now know was his last in a red shirt.
So it's the end of an era for the famous number 20 shirt at Old Trafford but Solskjaer's place in United history is secure forever. He's provided me as a fan with so many highs watching the Reds. All I can say is thanks Ole. David Pye"