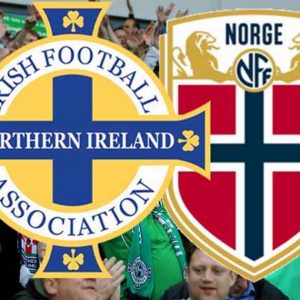 Road to Russia – World Cup
Norway's visit to Belfast didn't hold much hope and that's how it proved. Before the kick off itself, a minute's silence was held for Derry City captain Ryan McBride who tragically passed away the week before. It was so nice to see all the players out there paying their respects along with everyone else in the ground.
The Irish manager Michael O'Neil started his managerial career against Norway 5 years ago with a defeat, but it's fair to say they have gone forwards where as Norway have gone backwards since then? Maybe that is the reason they got Swede Lars Lagerback out of retirement and to sign a two-year deal, meaning this was his first game in charge.
Lagerback might have thought it was a bonus seeing Kyle Lafferty on the bench before kick off, however his replacement Connor Washington would soon prove otherwise. As he made it 2-0 just after half an hour. Northern Ireland's first came within 90 seconds from Jamie Ward inside fortress Windsor Park. Norway's defenders made it easy for him, as he was allowed time to control the ball, turn and then shoot in the box.
It was always going to be tough and the home team always expect to win at home now. With a handful of Premier League players in the Norway squad there was a little hope and mainly with King being the biggest threat. However it was Nordtveit who had the best chance with a long-range low free kick. With no chance of qualifying, that will be Germany who are way out in front, with the Irish and the Czechs trying to catch them for second place. The Norwegians just need to concentrate on pride now and that at least means finishing above Azerbaijan.
Emil Forsberg was the star for Sweden in Stockholm as they continued their push for top spot in Group A. More than likely though they will of course finish in second place behind France. On the night they were helped massively by Belarus' keeper Gorbunov, who had a bit of shocker between the sticks by dropping a couple of howlers. Forsberg got the first two of four goals, with one in each half and that was followed by a goal each for both Marcus Berg and Isaac Thelin.
France are top then and thankfully Holland are still having a shocker, which keeps Sweden's hopes going. However Bulgaria's shock win against Holland does keep them on Sweden's heels as they're now chasing them down. Big one next for Sweden though, France at home in June.
Denmark had a poor and dull 0 – 0 with Romania in Group E. The drawn result is obviously better than a defeat, which would have meant they would have gone above the Danish. It does leave them six points a drift of Poland along with Montenegro chasing that second spot. Kazakhstan away up next and they have to win that.
As for Group I – Iceland are now leading the pack in chasing down group leaders Croatia who beat Ukraine. Iceland's first away win in this campaign was courtesy of that man Gylfi Sigunarsson once again, his blocked shot created the first for Bjorn Sigurdarson to tap in. Gylfi himself then calmly converted from the penalty spot to make it 2-0. However, in the second half, they annoyingly conceded to Kosovo who scored their first ever goal from open play in a competitive game. A top of the table clash next time then in June when Croatia themselves come to visit.
In five previous visits to Turkey, Finland had never lost, but before going into this game we here thought it was going to be hard for that stat to still stand. Unfortunately we were correct and we also predicted the 2-0 loss score-lime, which leaves them with just one point from five games now with Ukraine visiting them next.