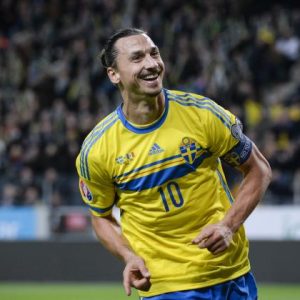 With the Zlatan Ibrahimovic "Symbol of Sweden" statue nearly complete along with the continuing speculation around his return to football and possible new contract with Manchester United. I decided to take a quick look at what the legend of Swedish football has already achieved in his short time with the Red Devils and why he wants to go back?
Back in the summer of 2016 after four years in Paris and once the Euro Championships in France had finished too. Zlatan finally took to Social Media and announced: "Time to let the world know. My next destination is @manutd" and the rest they say, is history. It was Zlatan time!
"it is a big club, huge club, so I'm excited"
It didn't take him long to settle in either and what a place to make his United debut, a pre-season friendly in Gothenburg, Sweden against Galatasaray and of course the big man scored. It was an Antonio Valencia cross from the right, unfortunately Zlatan mis-timed his a attempt at a volley/come over head kick but it still went in. The Return of the King.
Obviously some people questioned that he might not be able to do it in the Premier League, but having scored regularly in all the leagues across Europe that he'd played in he never doubted himself. Even at his age, he was still physically tough, as well as fit enough and showed no signs of slowing down once he got to Manchester.
"best city so far…" "So far.. everything is good" "if my family happy, I'm happy"
And so began the football and no surprises he scored in his first competitive game for the reds at Wembley against Leicester in the Community Shield. Another cross from Valencia but this time he headed it in as he picked up his first trophy for his new club on the big stage. He certainly was going to enjoy himself and his goalscoring debuts would carry on throughout the whole of the season.
As he got his first Premier League goal on his Premier League debut away to Bournemouth, followed by his first goal at Old Trafford on his debut there. A powerful header vs Southampton from a Rooney cross this time, he wasn't finished there as he later scored from the penalty spot too. Then however he suffered his first defeat with United in the Manchester derby, not before scoring against City for the first time too.
Then the baron spell came and questions marks were of course being asked, as the big fella only scored one goal in about two months against Ukrainian minnows Zorya Luhansk. It wasn't just himself though, during this time the team were generally struggling. He eventually bounced back with his first double away from home against Swansea and in doing so racked up his 400th club goal. Quite an achievement and after that he never looked back scoring a goal in every virtually every other game it seemed.
He also built up a good relationship and understanding with Pogba and in November hit another double in the EFL Cup at home to West Ham. A brilliantly lobbed goal was one of my favourites of his v Everton followed soon after as Stekelenburg came charging out at him.
He wasn't done there either for the calendar year as he got a brilliant late winner against Palace and then another double away to West Brom as he finished with a tally of 50 goals in 2016. He was certainly back in fine form as the New Year approached as more fixtures were coming thick and fast for him and United themselves as they tried to fight on all four fronts.
It wasn't just his goals either, it was his attitude, he's a born winner which always showed. He scored a remarkable headed equaliser against Liverpool, to this day I'm still trying to work out and he did it, but with seven minutes left he just charged back to his own half. He wanted the winner. Pure attitude.
His total then reached twenty for the season going into February away at Leicester, another assist from Valencia. Finally came a hat-trick too vs St Etienne in the Europa League. Then his FA Cup debut and yes you've guessed it, a debut FA Cup goal in the 5th Round as he came off the bench to score against Blackburn Rovers at Ewood Park.
Back at Wembley then for the EFL Cup Final and Southampton the opponents. As we all know he was at it again, first a stunning free kick to give United lead followed by Lingard making it 2-0. However Southampton pulled back two goals of their own. It was all set-up then for Zlatan and he certainly didn't disappoint as he headed in the winning goal with 3 minutes to go for his 26th goal of the season. The best bit about his winner was that just a minute earlier he was heading the ball clear in his own penalty box as The Saints pushed for a winner themselves
"I'm an animal. I feel like a lion. I don't want to be a lion, I am a lion."
Unfortunately his bad injury was now just around the corner as we all know but before that he notched up two more goals. A last-minute penalty at home to Everton and his final goal (for now) was away at Sunderland.
What a legend, what a lion! Seeing him and his fellow injured United players on crutches back out in Sweden celebrating winning the Europa League final was certainly special and even though he couldn't play, he'd played his part over the season with 45 appearances and 28 goals. See you back soon Zlatan, no wonder you want to come back. Obviously it's going to be in a different role but could you be the final piece of the jigsaw in bringing that league title back to United this season?
Kristian Jones.