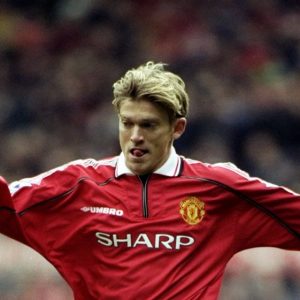 What happened to Jesper Blomqvist?
Well it may come as no surprise that Jesper Blomqvist has gone into media punditry most recently, but unbeknown to me when I recently looked him up "Jesper Blomqvist let's dance" came up on Google. That's right folks, earlier this year he took part in Let's Dance, the Swedish dance competition version of the UK's Strictly Come Dancing. Now that did come as surprise, even more so when I read he'd actually won the competition. That I wasn't expecting, I had presumed he was out there being a pundit, doing some coaching and being a guest speaker for his old clubs
Life after football then can be very different from one player to the next, but I do love to know what ex-Manchester United players are now up to. Jesper Blomqvist to me, as a United fan is a "cult hero" and remembered fondly from his days at Old Trafford and of course helping us win "The Treble!".
He had three seasons with us, but only really played in one season, his first season with us. What a season to play and to be there though, the most famous season in Manchester United's history. Unfortunately due to a long-term injury he featured very little in the two season that followed. Maybe if he hadn't had the injury and then gonna onto play more, he might not be as well-remembered. I suppose we'll just never know. Bizarrely he only ever scored one goal for United, but I can still remember where I was when I saw it go in. I was in Bristol that weekend visiting friends and they knew of a pub that showed games on a "dodgy channel" on a Saturday afternoon.
The former winger from hails from northern Sweden and made his name at the biggest club in Sweden I.F.K. Gothenburg where he started in the early-nineties. They went onto play in the Champions League and were drawn in a group with Galatasary, Barcelona and United which they remarkably won in the 1994-95 season. However, were beaten in the quarter-finals by Bayern Munich. Fergie spotted him then after he scored one and helped assist with two more goals against us. He turned us down as he wanted to play more and gain more experience with only be around twenty years old. Newcastle United and Barcelona themselves also came in the following season but he ended up at his dream club AC Milan. Unfortunaly within a year he was at in Parma after not playing too much, then things changed at Parma as well but thankfully he was grateful that United and Fergie were still interested in him.
Sir Alex had always wanted more competition for Giggs ever since Lee Sharpe had been moved on in 1996 and needed two good players competing with the demand of games. The rest they say is history. One full season, one goal (a header), one FA Cup, one Premier League, one Champions League, one Treble!
He made around 38 appearance in total and left two years after the treble success in 2001. He saw it coming too and knew the reasons why, they couldn't risk a new contract after his injury. He met with Fergie and Martin Edwards, but was more upset and sorry that he'd not been able to do more for the club. Sir Alex apparently thank him though for what he had achieved for us in that season!!! Then helped to arrange a move to Everton under Walter Smith for him. Where he came up against us in just his second game for them and after two and half years out. From what I've heard from Everton fans they liked him and in the games he did well, he did really well for them and was back on the bring of the Swedish national squad once again. After the it was on to Charlton Athletic in London, before a move back home to Sweden before retiring in officially in 2010. Thank you Jesper for your time at United. By Justin (JJ) @ Just Man Utd blogs.